In some of the least important and pressing recent news, former The Bachelor star Colton Underwood came out as gay during an interview with Robin Roberts on Good Morning America. Social media was aflame with a variety of reactions–from people thirsting over his physique to wild indifference and even the perpetuation of harmful coming-out tropes being tweeted by Real Housewives of New York Alum Carole Radziwill. The most frustrating developments in regards to Underwood relate to the immediate greenlight he received from Netflix for a reality series about him exploring the world as a gay man with his "guide," Olympic skier Gus Kenworthy, to show him the way. My face has been stuck in a permanent eye roll. I struggle to understand what new perspective this kind of program will offer audiences. It's yet another chance for cis, masc, "straight"-passable white gays to control the narrative of what living freely as an LGBTQ person has to offer.
The TV show has made me think about my own "gay guides" who helped me understand more deeply who I was and dream of a more authentic future for myself. The biggest chunk of my coming-of-age happened during the late 2000s and early 2010s, when gay representation was being seen more and more on screen. Here are a handful of my "gay guides" from television who helped me grow into the gay I am today.
The J's: J. Alexander and Jay Manuel, America's Next Top Model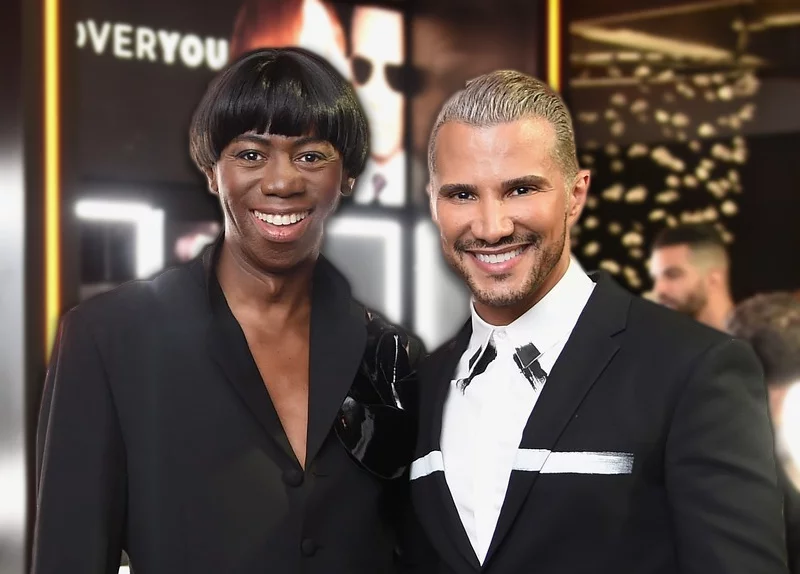 I am a self-proclaimed America's Next Top Model historian. There is no reality show that sits at the core of my being quite like this one. I would go to sleep listing the names of the winners in chronological order as my own personal mantra. I began watching the show with my mom and sister when they used to play all day marathons on TV. We would waste a Saturday away binging the cycle and making predictions on who would snag the $100,000 contract with Covergirl cosmetics. The judges panel was consistently legendary–from figures like Tyra Banks, Janice Dickinson, Twiggy, noted fashion photographer Nigel Barker, and of course the J's. The J's consist of runway-diva-coach-extraordinaire J. Alexander, as well as creative director Jay Manuel. J. Alexander wore his femininity in a way I had never seen anyone before. It was confidence, camp, and always filled with so much heart as we would watch his Afro get bigger week after week and his fierce runway lessons. I spent lots of time alone in my basement growing up, but I don't think my parent knew that I was actually standing on my tips toes in invisible heels practicing my runway walk every night for hours to prepare myself for the one day I randomly would meet J. and be able to show off everything he had taught me. Jay Manuel is the reason I wanted all grey hair from a young age. His face was perfectly manicured and his teeth would practically glow every time he smiled. Manuel took charge of every photoshoot, and I listened closely to each note he offered the girls on how to become a better model. I knew he would be impressed by how I was able to find my light no matter my pose and the effortless way I perfected my smize. The J's were such a comfort to me because of how common they were in my family's life as well. My mom and sister loved them, so maybe they would love me too.
Adam Lambert, American Idol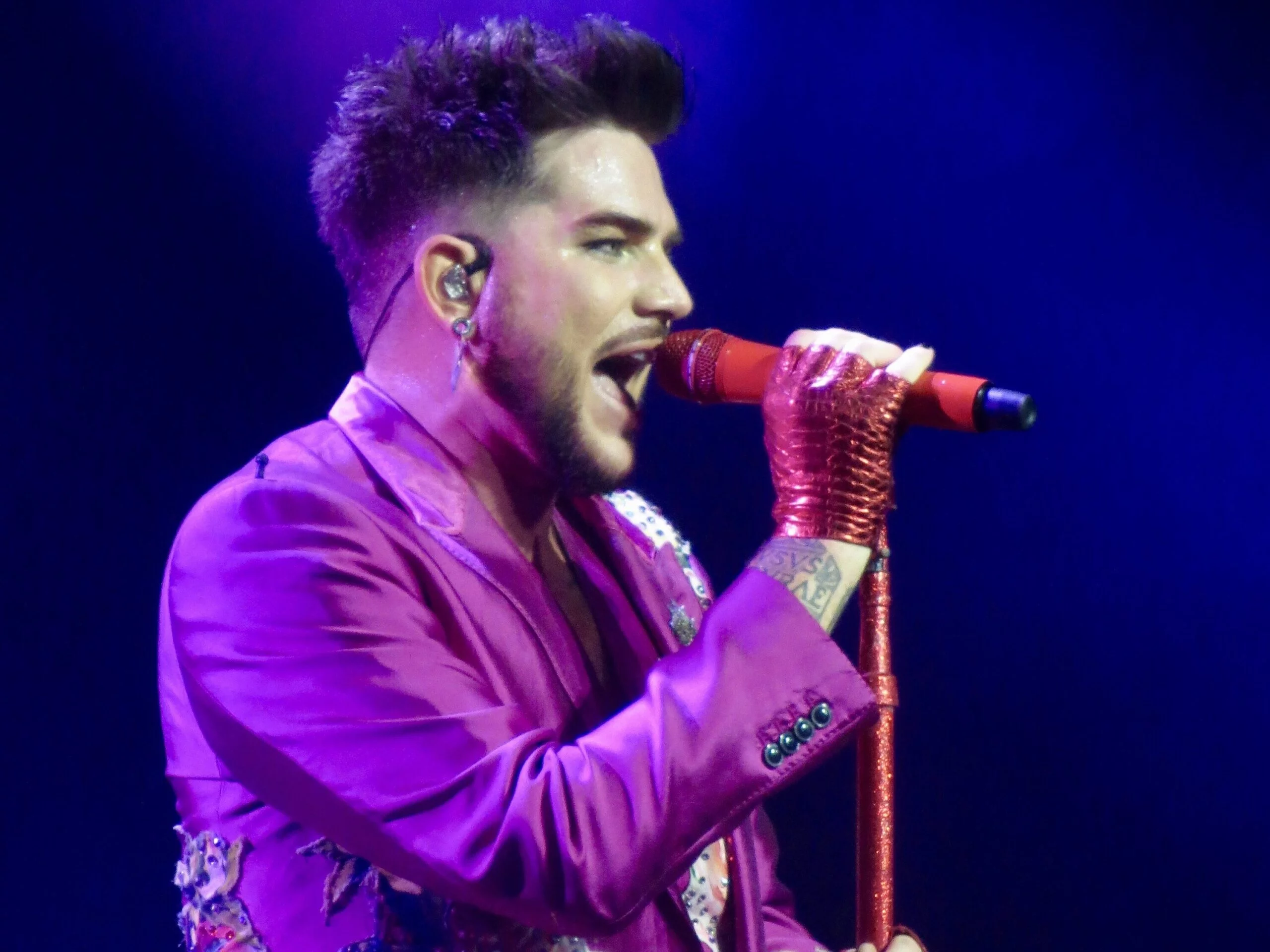 Since I was too young to vote in a real election, I proudly participated in my civic duty of dialing in to vote for our next American Idol. Season 8 of the series was my peak before my interest dwindled. After my inconsolable devastation following David Archuleta's loss in Season 7, I wasn't sure if I was able to handle another loss. Adam Lambert walked into the audition room and my eyebrows rose. He was rocking an edgy scene-boy hair style and his intro talked about his love of musical theater growing up. I sat up a little straighter. Paula Abdul told the judges that Adam had been in the cast of Wicked–I'm practically on his feet by now. Lambert sang "Bohemian Rhapsody" with his signature growl that cemented his legacy as the future front-man of Queen. Simon Cowell called Lambert "theatrical" with a negative undertone which was basically just a coded way to say "too gay". Week after week, Adam Lambert continued to magnetize me. My mind was blown when I discovered photos online of him kissing other men. I was frustrated. Why did he have to be gay? Why couldn't my attraction to Lambert be based on his talent, not his sexuality? I wished those two ideas could be separate rather than intertwined. By the time Lambert performed his cover of "Mad World" by Tears for Fears, I completely gave in along with everyone in my family. My dad and I were washing dishes one day, and I remember my dad singing the chorus and asking me to sing it back because it was our latest earworm. My obsession led me to force my mom to buy tickets to the American Idol concert, where I made a t-shirt that featured a cartoon portrait of Lambert belting on the back with his rocker pompadour. With my binoculars in the nosebleed seats, I watched in crystal clear magnification as Lambert sensually humped a microphone stand as he wailed to the crowd at the Mellon Arena. Though Lambert lost the season, it was me who won in the end.
1girl5gays
There is no show I would want a reboot more of than MTV Canada's 1girl5gays. The conceit was simple: a panel of five gay men answered twenty questions about love and sex asked by a straight woman. I truly miss the days of LogoTV. I had discovered the show after watching season 3 of Rupaul's Drag Race. The show was progressive, funny, earnest, bitchy, sexy, and allowed gay men to exist in a way that showed their full dimensionality. The men on this show were my top celebrity heroes at the time–from the loveable Jonathan Nathaniel to the sharp and smart Yerxa, the Madonna- and Christmas-loving Philip Tetro, my crushes Nurse Jake and Ish, and so many more. I felt like I knew each of these men like they were my own friends. The conversations about sex and relationships were frank and such a large part of my gay education. It was a rare place to learn about sex with openness that wasn't porn or something sexualized. I would watch the episodes at night in the basement on constant watch on the volume in case a word like "rimming" or "anal" was said, and I would quickly turn down the sound and press my ear to the TV to catch the answers. I feel indebted to these men for sharing their stories and experiences in a way that made excited to grow up and be a gay adult. It was undoubtedly ahead of its time and was pushing boundaries and experimented with different panels from lesbians, five people who were all HIV-positive, and even a group of gay high schoolers. Why isn't this available to stream anywhere in the U.S.?
Marshall, United States of Tara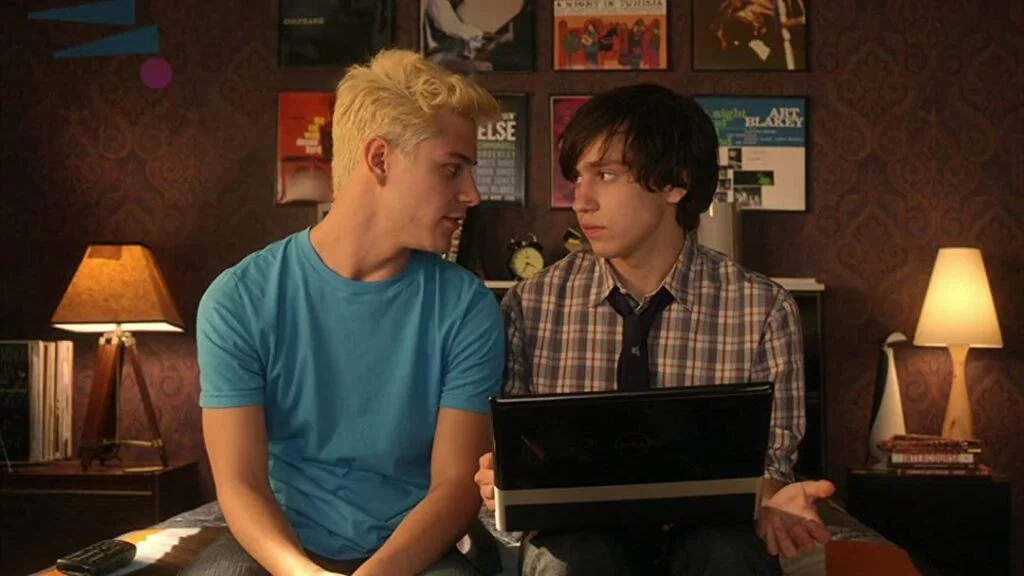 The cancellation of this Showtime series in 2011 was one of the biggest losses to TV. United States of Tara followed the incomparable Toni Collette as Tara Gregson, a woman with dissociative identity disorder, as she navigated life with her family and her various "alters." I credit this show as being one of the first series that ushered us into the Golden Age of Television that we've been spoiled by over the past few years. Though Toni Collette is a gay icon, it was her son Marshall, played by Keir Gilchrist, that kept me watching. Marshall was a young gay teen that was awkward, horny, and a connoisseur of culture. It was refreshing and so exciting to see someone my age feel like they represented me. Kurt Hummel from Glee never really did it for me. Marshall was crushing on boys, which led him into hilarious situations like playing a gay burning in hell during a Christian Haunted Hell House to impress a crush. The show gave Marshall a long-term love interest, Lionel, and their relationship just about left me in the fetal position by the end of the show. I haven't been able to rewatch the show since because of how devastating it is, but I will always recommend this show to anyone who is looking for something to watch. I think often of the scene where Marshall comes out to his grandmother. When she asks him how being gay is Marshall says, "it's like Christmas every day."
Richie, Looking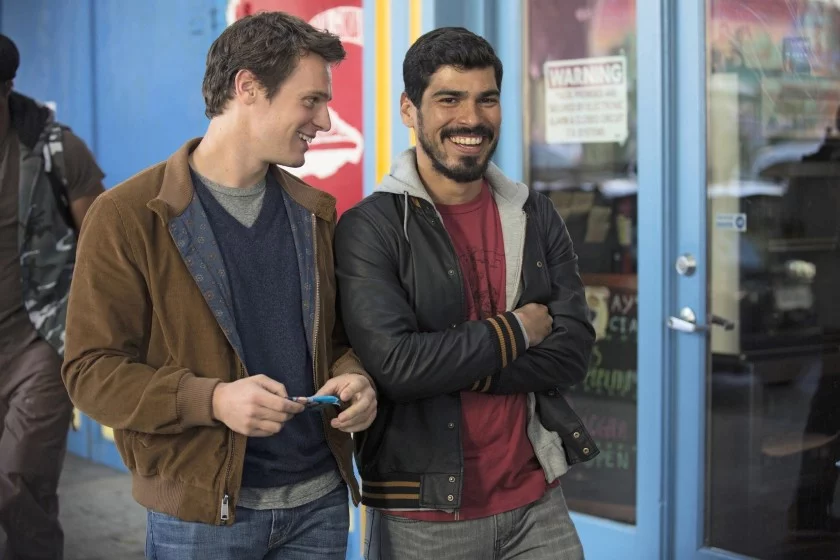 The amount of photos saved on my phone of Raúl Castillo is probably unhealthy. HBO's short lived gay series Looking ran for only two seasons and finished with a final movie to wrap up the series. The show was divisive and for good reason. It mainly explored the intricacies of a white and privileged POV and lacked a lot of chances to explore a more diverse spectrum of modern gay life in San Francisco. I loved it when it aired, and I shamelessly still love it now. The introduction of Richie in the pilot episode still makes me weak in the knees. Patrick, played by Jonathan Groff, is riding the tram when he is spotted by Richie. He wears a San Francisco Giants hat and leans back in his seat with an effortless comfortability. His smile could and has killed me. Richie's storyline offered insight into not only someone who was gay but also Mexican-American. He also appealed to me as well due to his Catholic faith. It was something he really embraced as a character and shared openly–like when he gave Patrick his scapular, which represents one's devotion to Mary and Christ. This character trait was one I hadn't seen displayed in the way it was on Looking, especially at a time when my main internal conflict was between my own faith and my sexuality. During a trip to New York City my summer after senior year, when I was out of the closet, I bumped into Raúl Castillo on the street. He looked as charming and handsome as ever, and just like Patrick on the tram it felt like life had the potential to actually surprise me.
---
For many young gays, the only guides we have are those we see on TV and movies. I felt disconnected from my own life, but was grateful that the one place I found a sense of comfort was in the "imaginary." Sure, I'm happy Colton Underwood can be his true self, but I want that level of safety and security for more underprivileged and underrepresented people so that they may have the chance to rise and flourish. I'm so grateful for the voices that gave me strength and hope when I was young, but it was much easier for me as a young, white, gay kid to be able to find some semblance of representation while many others only have crumbs. 2021 doesn't feel like the time we need to provide more space for a gay, registered-Republican hunk to explore his identity. This is a story that has been told countless times. Netflix needs to pass the mic and use their programming as a chance to expand the possibilities of new age authentic queer content.