Allegheny County Council At-Large candidate Joanna Doven today announced via her campaign Twitter account the support of former Delta Foundation of Pittsburgh president Gary Van Horn.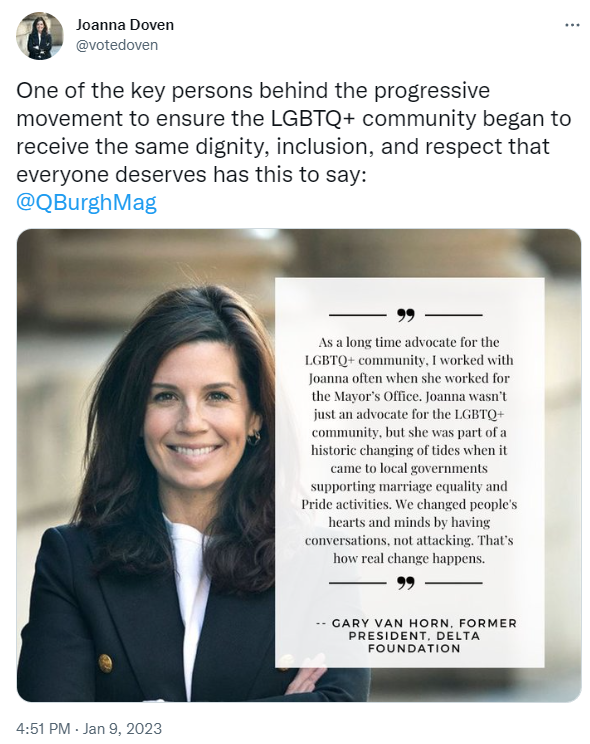 Earlier this week QBurgh raised questions about Doven for a history of posting anti-trans, racist, and pro-Republican tweets in recent years.
Joanna Doven responded through her campaign Twitter account Saturday with a 25-tweet-long thread. Doven accused QBurgh and others of committing a coordinated attack on her and her campaign, justified her support of Republican Senator Marco Rubio, used the term "opioid babies", and accused her opponent of being a "drunk", of "selling drugs", and of "sexually assaulting someone".
Gary Van Horn of Ft. Lauderdale, Florida and the long-time former head of the now-defunct Delta Foundation of Pittsburgh settled charges in 2021 of impersonating a police officer and forging the signature of the Allegheny County sheriff. Van Horn took an accelerated rehabilitative disposition, ARD, which included two years of probation, 300 hours of community service, and fines and fees totaling $3,127.75.
Van Horn was accused of installing flashing red and white lights on his 2017 Ford Explorer and forging Allegheny County Sheriff William Mullen's signature on documents that he provided to police to prove his car was designated as an emergency vehicle, the criminal complaint said.
The Delta Foundation of Pittsburgh, which formerly ran Pittsburgh Pride events supposedly dissolved in 2020 and attempted to trademark the term "Pittsburgh Pride". QBurgh sued the Delta Foundation of Pittsburgh over the attempted trademark and won.
Questions remain about a jet ski rental business that was run out of the Delta Foundation while Van Horn was president.