Wouldn't it be nice if anytime you felt a bit low or bored or just need some advice, someone would just appear to you? Someone you can talk to. Someone who can make you laugh or entertain you in some way. Someone who can help you find hope or yourself again. Now imagine that this person just happens to be Dolly Parton. Yes, that Dolly Parton. Well, you don't have to imagine too hard because that is exactly what happens to Kevin, a struggling comedian stuck quarantining in his parents' attic after a breakup, in the brand new musical Here You Come Again, January 12 through 29 at Pittsburgh Playhouse's Highmark Theatre, presented by the Pittsburgh CLO Kara Cabaret Series and produced in association with The Pittsburgh Playhouse.

Here You Come Again, written by Bruce Vilanch, Gabriel Barre, and Tricia Paoluccio, with songs by Dolly Parton (and others), seems to have been born out of a perfect storm. The first ingredient of that perfect storm is Tricia Paoluccio herself. Tricia, a stage and screen actress who also plays Dolly in the show, is a self-described "lifelong" Dolly Parton fan. "I fell in love with her music when I was a little girl," Tricia informs me. "I get emotional whenever I speak about her. What I love most about Dolly is her message. Dolly spreads hope and joy and the sense that everything is going to be ok and she does that through her music. People always suggested I do a show about my love for her but I really wanted to show Dolly in action."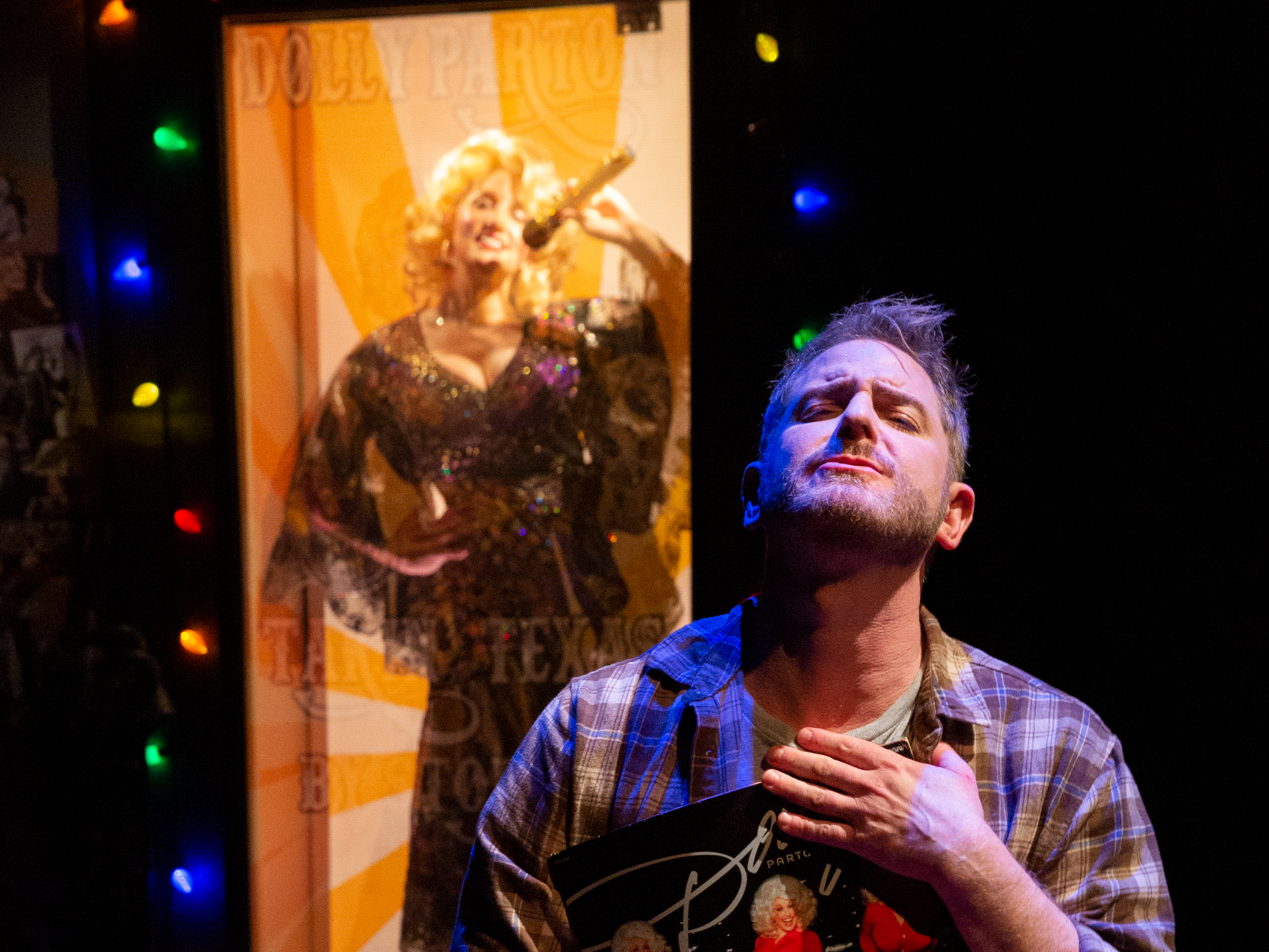 The next couple ingredients in this perfect storm are the fact that Tricia is married to Gabriel Barre, who just so happens to be an acclaimed Broadway and International director and they were stuck together in a house in 2020, for reasons we are all very aware of. "Tricia had been busy as an artist and a hardworking actor and I had been busy directing plus we have two kids so we did not really get to activate this idea until the pandemic," says Barre. "We had won a grant to write a show so I called in Bruce Vilanch("Hollywood Squares", Hairspray and so much more), a wonderful writer I've worked with in the past. So Tricia had the initial idea, I outlined the story and Bruce wrote most of the dialogue initially. As we continued to work on it though, we each had equal say in how the show was steered. It was a true collaboration and a harmonious one." Next, the team presented a reading of the show(on Zoom, of course) and they received a rather positive reaction. Gabriel adds, "After the reading, our lawyer volunteered to get the material to Dolly. Months later, we heard from her lawyer that Dolly had pored over the material and loved it!!"

That all sounds ridiculously easy, right? Well, I didn't call these circumstances a perfect storm for nothing. You see, Tricia not only loves Dolly Parton. She can be Dolly Parton. "When I first heard "Here You Come Again" on the radio, I just had to learn it," Tricia tells me. "I didn't know that you weren't supposed to copy so I mimicked her." After years of practice, Paoluccio had Parton down to a science. "For practically my whole life, I've been able to burst into her voice and talk and sing like her and make people smile." And for the record, when she said burst in that sentence, she did, in fact, burst into Dolly's voice and yes, dear readers, I surely did smile. Apparently, it made Parton smile as well as she has personally given Tricia the right to play her in this show and will have to approve anyone who plays the role in the future.

So now we've got an acclaimed Broadway director, a Dolly Parton-approved Dolly impersonator, and a stellar comedy writer helming this show. How could this perfect storm get any better? Well, it does. "I've only known Dolly for 40 years," Vilanch tells me with a laugh. "I was part of the rescue squad that was brought in for her disastrous Sunday night variety show on ABC, which was called 'Dolly!' We jettisoned the sketch aspect of the show and made it a series of specials. We actually opened Dollywood on the show!" Adding some of his signature wit that is sure to be a part of the character Kevin, Bruce then offered me his review of Dollywood – "Back then, it was just a sad little train and clog dancing at noon. The best half-day you've ever had." The park may not have had a lasting impression on Vilanch but Dolly Parton definitely did. "I did a lot of writing for Dolly and spent a lot of time with her voice. I know how she speaks. That certainly helped me 40 years later. I definitely felt validated when she read the script, liked it, and had only one note." Gabriel adds, "Dolly has definitely blessed this production!"
Throughout the course of Here You Come Again, Dolly Parton appears to Kevin, a gay comedian at a low point in his life(wonderfully portrayed by Jamison Stern of the Amazon TV series "After Forever"). They sing and swap stories and as Vilanch puts it, you'll "see Dolly Parton save a life in 12 easy songs." When creating the show, Paoluccio thought it was very important that the character of Kevin be gay because Dolly has such a big following among the LGBTQ Community. When asked why they thought Dolly is so popular with gay people, I received varied responses from the writing team with a similar theme. "Dolly does always say 'if I were a man, I'd probably be a drag queen',' says Bruce.

Tricia adds, "She's not afraid to be herself."

Gabriel also adds this thought: "When she was starting out, people were bashing her for her look but she refused to change and everyone can respect that about her."

"Even though she comes out in her get-up, and everything is larger than life, she speaks like a real person," says Bruce. "There's no BS about her and I definitely think that appeals to gay people."

Tricia then sums it all up by saying this: "I think Dolly represents unconditional love." I would have to agree with all of the above.
On episode 13 of the fourth season of "Designing Women", Dolly Parton, dressed in a stunning white gown dripping with embellishments, appears in a dream and tells the character Charlene(played by Jean Smart) that she was, indeed, Charlene's "guardian movie star". (Yes, as if an article describing a musical about a queer comedian obsessed with Dolly Parton wasn't gay enough, I am adding a "Designing Women" reference.) It makes me wonder: Is Dolly Parton everyone's guardian movie star? Did Dolly somehow create this perfect storm that birthed Here You Come Again during the pandemic so we could all be thoroughly entertained after we were set free from our homes? She did help make the vaccine happen, after all. And look the way Jean Smart's career has been revitalized in the past couple of years…Coincidence? I think not. I'm just saying, if this is true, do not let Dolly Parton's(and Barre's, Paoluccio's and Vilanch's) hard work go to waste! Grab some friends, head on down to the Pittsburgh Playhouse and enjoy such hits as "9 to 5" and "Jolene" in Here You Come Again, running January 12-29th!

Here You Come Again will be presented at the Pittsburgh Playhouse's Highmark Theatre (350 Forbes Avenue) January 12 – 29, 2023 as part of the Pittsburgh CLO's Kara Cabaret Series. Tickets range from $25 – $50. For more information, Pittsburghclo.org