The 2021 Sundance Film Festival has begun! For the first time in history, the fest is going virtual. Innovation has been the pulse of creative communities across the world to stay safe and invigorated during this global pandemic from the initial creation to the exhibition of work. What makes this so exciting for Sundance is the accessibility. Forget traveling to the freezing cold of Park City, Utah; now you can experience premieres right from your own couch.
Though most passes are currently sold out, you can still buy a single film ticket to watch individual films. Go to tickets.festival.sundance.org and next to Single Film Ticket, then click "select a screening." This will show you which films are still available to watch. Simply create an account, purchase the ticket, and get ready for your Sundance experience.
In the face of COVID-19, Sundance has curated a program of cutting-edge films from artists all across the globe. From a woman spiraling out because of a mysterious sound coming from the ceiling to a portrait of unsung luminary Pauli Murray, here is a round-up of all the queer premieres and happenings at the 2021 Festival!
NARRATIVE FILMS
Together, Together
A rom-com that defies romantic comedy standards. Anna (Patti Harrison) agrees to become the surrogate to middle-aged Matt (Ed Helms). The two strike up an unconventional bond as their lives start to intertwine. Director Nicole Beckwith plays with traditional gender dynamics to explore the intimacy of friendship. The all-star LGBTQ cast includes Patti Harrison, Julio Torres, and Tig Notaro. Featured in the US Dramatic Competition.
The World to Come
Every couple of weeks, film twitter and gay twitter enter pre-electricity lesbian movie discourse in regards to the trend of romantic dramas about women pre-1900 (Portrait of a Lady on Fire, Ammonite). The World to Come stars Katherine Waterston as a rugged settler whose drudgery-filled life changes when Tallie (Vanessa Kirby) moves to her village. I am curious to see how this adaptation of Jim Shepard's short story lands with the "twittersphere." (Single Film Ticket available).
We're All Going to the World's Fair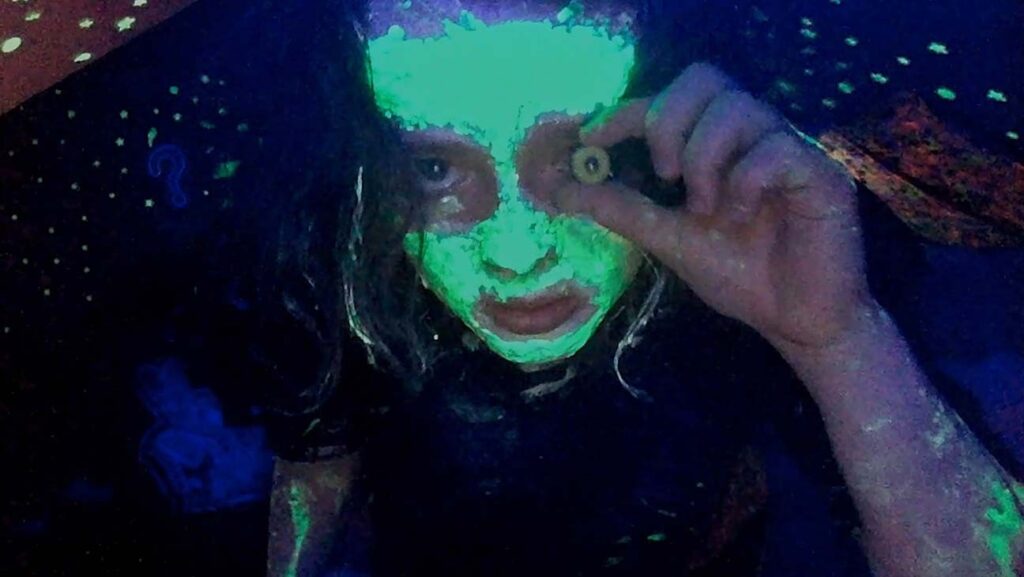 The NEXT section of Sundance highlightsdaring, innovative and progressive works of cinema. Jane Schoenburn, a nonbinary filmmaker committed to making and supporting personal, art-driven filmmaking, immerses us in the world of the World's Fair Challenge–an online role-playing horror game. Casey, an isolated teenager, slips between the world of dream and reality as she digs deeper into the game. (Single Film Ticket available).
Ma Belle, My Beauty
If you're searching for an escape, why not take a trip to France to watch as Fred and Bertie find themselves reconnected with Lane, their three-way relationship ex. Polyamorous relationships are rarely depicted in film, and Marion Hill's feature film debut is a soulful and breezy meditation on sexual fluidity and love triangles. If you enjoyed the lush atmosphere of Call Me By Your Name, this will be right up your alley. (Single Film Ticket available).
Knocking
It's always an exciting moment when genre filmmaking and queer stories intersect. Knocking tells the story of Molly, who in the aftermath of a traumatic accident has moved into a new apartment after being released from a psychiatric ward. Upstairs, Molly hears a knocking. She is convinced someone is in danger and needs her help. "It gives us a hint about the #MeToo debate–who owns the truth and whose voice matters." says director Frida Kempff. This film is playing in the midnight section, and is sure to provide chills and a complex character study. (Single Film Ticket available).
DOCUMENTARY
At The Ready
At Horizon High School in El Paso, Texas, students can participate in extracurricular activities from yearbook to flag team. One of their more unique activities. however, is the Criminal Justice Club. This documentary tackles tough questions of immigration, identity and more as it follows the lives of two Mexican American students, Kassy and Cesar, as well as one recent graduate, Cristina. Featured in the US Documentary Competition. (Single Film Ticket available).
Flee
A unique refugee story that breaks the mold for documentaries as it combines hand drawn animation, 80s pop bangers, and archive footage. It's a tender and intimate narrative of how an Afghan man escaped to Denmark as a minor. As he gets closer to marrying his longtime boyfriend, he must keep his identity a secret. Poetic and courageous, Jonas Poher Rasmussen imbues the film with an immeasurable amount of vulnerability and beauty. Featured in the World Cinema Documentary Competition.
My Name is Pauli Murray
Betsy West and Julie Cohen, the filmmakers behind the hit documentary RBG, are back with another vital portrait. Pauli Murray is an unsung hero, lawyer, black activist, poet, priest, feminist, and so much more. Murray will no longer remain a hidden figure as they are illuminated by their writing, photos, audio recordings, and more. Pauli Murray passed away in 1985 in Pittsburgh. (Single Film Ticket available).
The Most Beautiful Boy in the World
Iconic Italian film director, Luchino Visconti, heralded the star of his film, Death in Venice, as the most beautiful boy in the world. That boy, Björn Andrésen, was only fifteen years old at the time. This is the story of obsession with beauty, of desire, of sacrifice. Kristina Lindström and Kristian Petri give Andrésen the chance to share his story and expose how Visconti's words altered the course of his life forever. Featured in the World Cinema Documentary Competition. (Single Film Ticket available).
Ailey
The life of Alvin Ailey is one we are going to be seeing a lot of in the next few years. In 2019, it was announced that Barry Jenkins (Moonlight) would be directing a biopic about the iconic choreographer. Jamila Wignot's documentary takes us deeper into understanding the man behind the movements. Like with his dancing, this film quickly takes the shape of a fluid poem that serves as a biography of Ailey's life and work. Featured in the US Documentary Competition. (Single Film Ticket available).
Searchers
Oh, the modern struggles of online dating. Doom scrolling has been a big part of life in quarantine from twitter to dating apps. Pacho Velez asks the same question to all of his subjects: "What are you looking for?" The conversations encompass New Yorkers of all races, genders, sexualities, and more. Rather than aiming to make a strong statement on the effects of virtual romance, Velez relishes in the importance of human connection. (Single Film Ticket available).
SHORTS
Unliveable
Every three days in Brazil, a trans person is murdered. Matheus Farias' mother-daughter story depicts Marilene, who searches for her missing trans daughter, Roberta. The hope she discovers along the way bends this film into the realm of science fiction.
This Is the Way We Rise
"In Hawaiian culture, when you write a poem it's no longer yours. It belongs to whoever you wrote it for." These are the words of native Hawaiian slam poet Jamaica Heolimeleikalani Osorio. This striking short doc takes us inside Jamaica's creative process as she crafts rallying cries to protect Mauna Kea, a sacred dormant volcano that is the highest point in Hawai'i.
SERIES
4 Feet High
Juana is trying to find her place in school, make friendships, and explore her sexuality. The trials of being seventeen! This series is vital, as Juana is also wheelchair bound, giving voice to an often overlooked experience.
TALKS
The Big Conversation: Barbed Wire Kisses Redux
Every film and story on this list owes so much to the year 1992. This is when film academic, B. Ruby Rich coined the phrase "New Queer Cinema." It was a year heralded by queer stories that were unapologetic, independent, and rejected heteronormativity. Twenty-nine years ago, Rich moderated a panel of queer filmmakers at Sundance. In 2021, B. Ruby Rich returns with Andrew Ahn (Spa Night, Driveways), Gregg Araki (Mysterious Skin, The Living End), Cheryl Dunye (The Watermelon Woman), Silas Howard (By Hook or by Crook, A Kid Like Jake), Isaac Julien (Young Soul Rebels, Looking for Langston), Tom Kalin (Savage Grace), and Rose Troche (Go Fish) to reflect on queer cinema's past and its progressive future.
Be sure to check out these films and more. I wouldn't be surprised if some of these queer stories ended up taking home the top prizes in their respective competition categories. At the top of my most anticipated watch list is We're All Going to the World's Fair, Ma Belle, My Beauty, At the Ready, and Flee. Overall, these stories represent such a wide breadth of the queer experience, and it will be exciting to see which audiences really latch onto. This is the same festival that gave us Hedwig and the Angry Inch and Paris is Burning. What will Sundance give us next?