If you have a queer tween or teen that is interested in arts and crafts, then there is some good news. There are queer tween craft classes happening twice a month now in the Lawrenceville/Bloomfield area.
The class has an interesting origin.  Debbie Maier Jacknin, who is co-owner of Songbird Artistry, was up late one night on one of her favorite Facebook pages, "Pittsburgh Moms Connect," and saw a post from a mom about her non-binary child struggling through some issues and looking for other moms going through the same experiences. Another mom chimed in and said that her child was going through something similar, and this is when Debbie thought of the possibility of offering a craft class for queer tweens.  She had the space available in her store, which specializes in home-crafted items along with a workspace that is currently holding various art and mosaic classes.  Debbie then contacted a resident artist at her shop, Kai Ayase, who identifies as non-binary, and asked their opinion on the matter.  The two of them spoke and agreed that a class for queer tweens would be a great thing to offer.  Debbie then posted on the Pittsburgh Moms Connect Facebook thread that if the parents were interested that there would be a queer tween craft class held in her store for the children to meet and create some art, but most of all chat together.  The parents agreed and the first class was held with seven students attending on October 3. 
When you arrive at Songbird Artistry, you walk into a large retail space full of an eclectic amount of merchandise from local artists.  There are t-shirts, cards, jewelry, and everything in between. If you keep walking, there is a middle section where the classes take place, and then there is a back part which is full of more merchandise for sale and a large circle made up of a wide sofa along with a half dozen old wooden chairs.  This circle provides the opportunity for the parents to sit and chat as well.  The store is closed for business during class hours so that parents and kids are in a safe environment to talk, share, and learn about each other.     
The class, which Kai Ayase teaches, starts off with the kids introducing themselves and each makes a name tag with their preferred pronouns. There have now been three classes with an average of eight people in each class.  Each class is unique in what the students will be doing, but past classes have involved self-portraits with adding a superpower, drawing, and envisioning themselves to be anything they wanted to be, to the latest class of making themselves into a cartoon character along with a comic strip about themselves.  Kai teaches the class from an artistic level, providing a structure for the class where the students can follow their lead which keeps the class moving forward. 
The participants enjoy the class tremendously, saying their favorite part besides creating art is the ability to be who they are for a bit.  The respect of proper pronouns is the most agreed-upon benefit from the class.  Often, they are misgendered elsewhere, so a class in which their preferred pronouns are used is a welcome environment. There is also the enjoyment of the compliments they receive on their creations.  One of the students mentioned that their art is often misunderstood, but their fellow classmates "get it." It's also the opportunity to chat with other people with similar experiences.  "We all are so different and yet we are so similar," said one student. "This allows us not only to help with our life experiences but listen and understand others." 
The parents' reactions are quite similar. They are pleased with the opportunity for their children to meet and chat with other queer tweens. "It's been a great benefit for me just to get to know the other parents and to understand that I am not alone in accepting and understanding my child's identity," said one parent.
"There are so few events like this in the city. I'm very pleased that we both are participating. It's been very rewarding for our relationship," said another parent.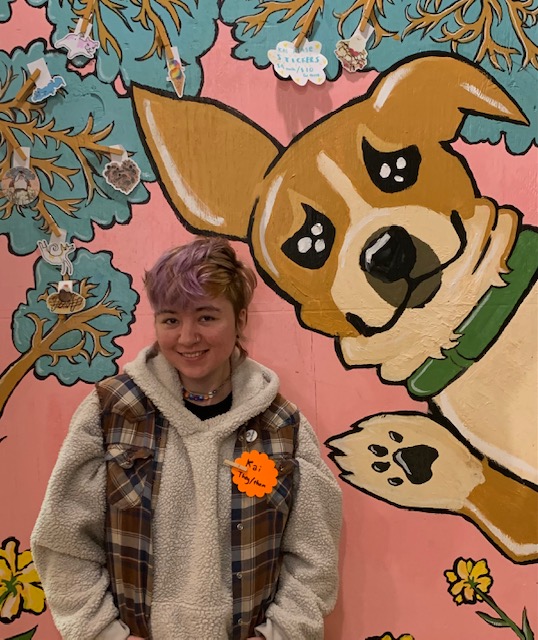 Craft instructor Kai Ayase is a local artist who moved to Pittsburgh two years ago.  They live in Lawrenceville not too far from Songbird Artistry.  Kai and Debbie met when Kai was out looking for some local homespun yarn for a project they were doing.  Kai came into the store and loved what they saw.  According to Debbie, "Kai was an instant fit.  Kai's artwork is perfect for who we are as a shop.  But most importantly, Kai is perfect for the shop.  We've added more and more art classes from Kai. They love to do them as much as we love having them. They are a big hit!" 
The classes are now being expanded at Songbird Artistry. The Queer Tween Class is offered on the 1st and 3rd Sundays of the month from Noon until 2 PM. And now being added is a new Queer Teen Class which will also be the 1st and 3rd Sundays of the month from 3:30 to 5:30 PM. Registration is available on Songbird Artistry's website – www.songbirdartistry.com. Space is limited. In the spirit of giving back to the LGBTQ Community – a portion of the proceeds will be going to the Hugh Lane Foundation Youth Services.
For any questions, you can contact Songbird Artistry directly.  They are located at 4316 Penn Ave. across from Children's Hospital.  They are constantly adding new and exciting items. So much of what they sell is one of a kind.