A Muslim-raised, queer artist explores a tenuous connection with his mother through an ancient Greek text in Adil Mansoor's Amm(i)gone.
Mansoor said, "My mother found out I was gay on Google."
The playwright and performer had acquired a long-reaching internet presence. For five years, he was the Programs and Artistic Director for Dreams of Hope, an LGBTQA+ youth arts organization, and has directed several queer-themed plays including Paul Kruse's Chickens in the Yard, a coproduction between Quantum Theatre and the Hatch Arts Collective.
"My mother, a single Muslim woman, began praying for me when she found out I was gay. She prayed I would return to the faith. Talking to each other got harder and harder."
For years, he struggled to find a common ground between them. While reading Antigone, a play about a radical feminist who fought for her beliefs, he found the catalyst he needed to reopen the discourse.
Mansoor added, "Antigone is about God, family, government, and making impossible decisions for love. It provides an interesting canvas for my mother and me to initiate a dialogue."
That conversation became Mansoor's solo performance piece, Amm(i)gone, as an apology to his mother. He said, "Ammi [امی] is the Urdu word for mother." He added, "I could adapt this play, which is outside of the context of our relationship and filter it. I offered her a chance to dramaturg it."
Amm(i)gone explores queerness, the afterlife, and obligation using canonical texts, teachings from the Quran and audio conversations between Adil Mansoor and his mother.
Mansoor said, "I started with a desire to include my mom in my artistic practice and have discovered a process that is encouraging my mom and me to embrace our full selves with one another. Amm(i)gone is a lecture-performance as I am attempting to reconcile with my conflicting experience as a theater artist, queer educator, and momma's boy."
"I had been working on the play for the last three years. I was memorizing lines and playing myself as a character and I was struggling with it. Ben Pryor, programming director at the Kelly Strayhorn, suggested that I approach the play not as an actor but as an educator. I started seeing the show as a lesson plan. It unlocked the play for me."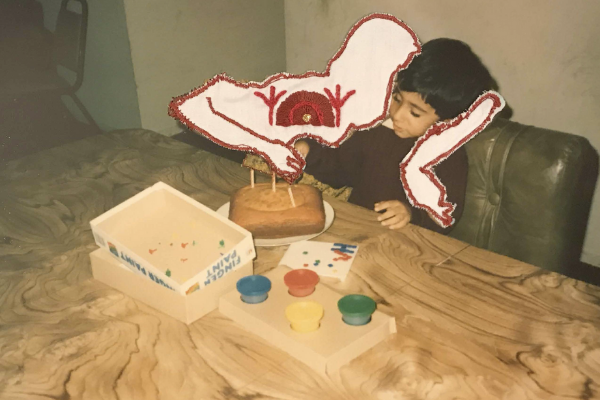 "With Amm(i)gone," He said, "I am working to center my own queer, Muslim, and intersecting experience. I believe the work resonates with anyone who has loved someone with resoundingly different beliefs. I realize that because of my mother's beliefs, it is improbable that she will ever see this work. However, I am working diligently to create something she would struggle to hate.
In keeping with Muslim traditions, the Kelly Strayhorn Theater and the Amm(i)gone creative team will present a special Iftar Party on Wednesday, April 21st with a meal to break the fast and celebrate Ramadan before the performance. Mansoor said, "When we asked for money to put up a tent and feed people after the fast our financial partners [The Pittsburgh Foundation, and others] immediately said yes."
Salim's Middle Eastern Food Store will provide food for the Iftar Party, and there will be a space upstairs set aside for prayer.
Amm(i)gone is a National Performance Network (NPN) Creation & Development Fund Project co-commissioned by Kelly Strayhorn Theater in partnership with The Theater Offensive and NPN/VAN. Mansoor will take Amm(i)gone to Boston and perform it on June 10, 11 and 12th.
Mansoor said, "I was processing our lives, our relationship through a piece of art. That's what art is really."
Adil Mansoor's Amm(i)gone, an adaptation of Sophocles' Antigone, runs from April 22-24, 27, 29 & 30 at Kelly Strayhorn Theater's Alloy Studios, 5530 Penn Avenue, Pittsburgh, PA 15206. For additional details, including COVID policy updates, and tickets, and information on the full season, go to kelly-strayhorn.org.