As the wise Murray in the hit film Clueless once said, "Your man, Christian, is a cakeboy. He's a disco-dancing, Oscar Wilde-reading, Streisand-ticket-holding friend of Dorothy, you know what I'm saying?" Though the exact origins of the phrase "friend of Dorothy" (slang for someone who is LGBTQ+) cannot be pinpointed, it will always bring one to "The Merry Old Land of Oz." For generations, the Wizard of Oz has captivated the world–from Frank L. Baum's novel published in 1900 to, most iconically, the 1939 film of the same name starring the original gay icon herself, Judy Garland. Now, The Pittsburgh CLO has followed the (black and) yellow brick road to Heinz Field, where they will be performing The Wizard of Oz under the stars through their first-ever partnership with the Pittsburgh Steelers.
Looking at the Wizard of Oz through a queer lens reveals so much love, beauty, and magic. From Glinda the Good Witch singing "come out, come out, wherever you are" as Dorothy has found her way in Oz; to the Scarecrow, gangly limbs and all pointing out the different journeys Dorothy could take by saying, "That way is very nice. It's pleasant that way too." The scarecrow crosses his arms and adds, "Of course, people do go both ways!" How's that for some 1930s bisexual representation?
Gerry McIntyre, choreographer of the Pittsburgh CLO's production, finds himself in awe of the story's powerful innocence. He was covered in goosebumps as he gushed about Judy Garland's naivety and fearlessness as she entered Oz. "It's a representation of the queer experience, as we run into obstacles like Republicans and bigotry. In Dorothy's case The Wicked Witch. However, she understands that through bonding together with close friends, it's the only way to get out and back home." McIntyre first encountered The Wizard of Oz while a student in Catholic grade school during the late 1960's/early 1970's. "I was feeling things I knew I wasn't supposed to feel. It was a feeling I knew I had to suppress even though I was overwhelmed with emotion." Seeing Ray Bolger dance and sing to "If I Only Had a Brain" captured him as a moment where he understood what he wanted to do in his life–perform. "I felt dirty because I liked it."
Though a fan of The Wizard of Oz, he feels especially connected to The Wiz, the Tony Award Winning Best Musical. "I love how unabashedly black it is. In every moment. It is also enriched with queerness." He previously worked on the show in 2019 in Sacramento with director Glenn Casale, who is directing the CLO's Wizard of Oz. McIntrye has added these touches in moments like the Palace Guard of Oz (played by LaTrea Rembert), who thwoorps a fan with all the ferocity of Billy Porter's Pray Tell in Pose. "There's a lot of queer people in Oz!" said McIntyre.
The Pittsburgh CLO's casting made an "untraditional" choice by having a woman, Drew Leigh Williams, play the Cowardly Lion. At first, McIntrye was skeptical of the casting decision but has found himself surprised and delighted by Williams' portrayal and the new doors the casting unlocks to the gang. "Having Dorothy opposite another woman, rather than amongst three other men, is something we haven't seen before." He appreciates how the dynamic subtly shifts elements of the show.
Drew Leigh Williams was completely surprised when she received her callback materials and they included the Lion. "An identifying female can absolutely want to be King. She/They can also be an independent and hard-laboring farmhand, as seen in the earlier scenes prior to Dorothy's arrival in Oz."
These shifts in casting are something we can hopefully see more of as theater begins to open on a larger scale. "I want children and adults to learn that there are few limits in life and career, and I want producers and directors to continue expanding the possibilities for their actors and challenging societal norms for their audiences," said Williams, "The Lion's strength and courage to protect others and her/his/their vulnerability to ask for help stays the same [regardless of gender]."
McIntyre also feels confident in these shifts. He believes awareness has been raised for producers and theaters. However, he is forthright in his advocacy to not keep his mouth shut or play along to satisfy shows that lack the diversity this age calls for. "I am a queer, black, male in my late 50s," he said, "I'm not playing along anymore."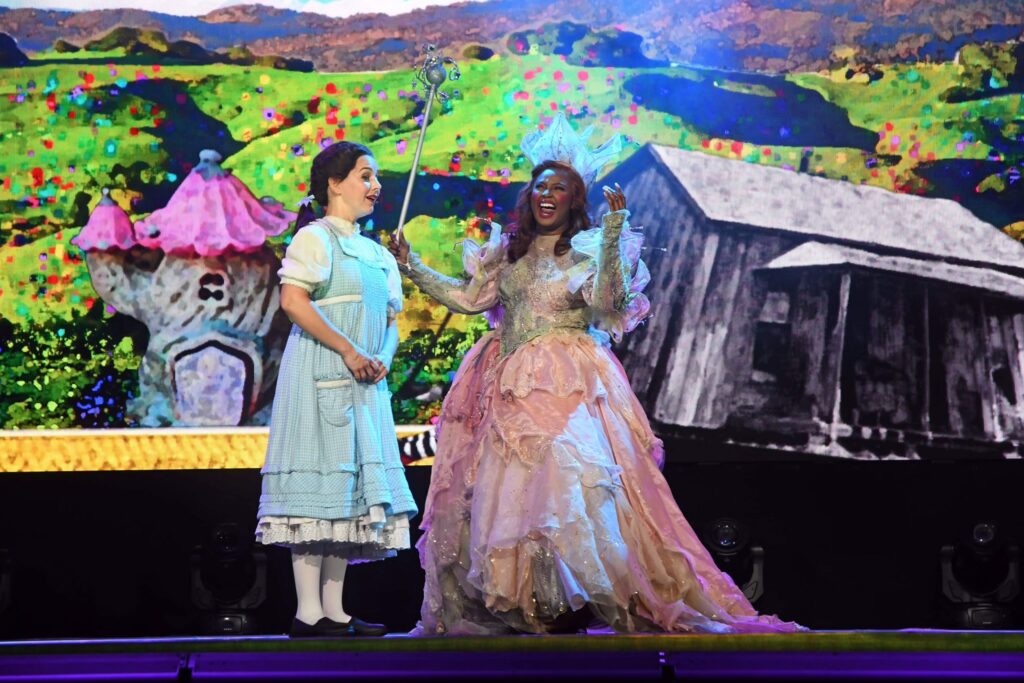 In the Post-Trump and pandemic world, what really has emerged for McIntrye within Dorothy's story is its survival qualities. The theater community has been away from their stages, their homes, for so long that he described coming back as simply amazing.
"There's no place like home."
Pittsburgh CLO's The Wizard of Oz runs July 8 thru July 10 at Heinz Field. Tickets can be purchased here.