Getting your first kiss is a coming-of-age nail-bitter. Some of us receive the peck during a slow dance in the dimly lit cafetorium, others in the back seat of the bus on the way home from a field trip. The second season of Hulu's dramedy, Pen15– created by Maya Erskine, Anna Konkle, and Sam Zvibleman explores students whose first kiss happens on stage. The show's conceit is simple yet radiates comedic genius and cringy, nostalgic heartbreak as Erskin and Konkle play themselves as 7th graders in the year 2000.
The small twist? All their classmates are played by actual 7th graders. The more you watch, the more their performances reach an uncanny level of authenticity as they tamper with witchcraft and chug Surge to pull an all-nighter at a sleepover. What stands out most of all is the season's dive into a character confronting his gay consciousness. With this casting device, Pen15 goes where countless series haven't, allowing a young actor to truthfully portray a queer storyline.
In Episode 6, "Play", Erskine's Maya is cast in the school production, The Days are Short, written by the fervent drama teacher Greg (Michael Angarano). She is cast opposite Gabe, portrayed by the season one scene stealer, Dylan Gage. If anyone deserves the world, it is Dylan Gage. In the initial read through, Maya and Gabe discover they are a fraying married couple. The script is a nod to Albee's Who's Afraid of Virginia Woolf. Beyond playing bitter lovers, the two will share a kiss in the very first scene. A first for both of them.
I am a theater kid. At my Catholic middle school, I found a love of performing through my Forensics club where in eighth grade I finally claimed the Pittsburgh championship placement in the drama category. I attended Pittsburgh Creative and Performing Arts, not for acting but rather Literary Arts. One of the cons I mulled over in the bathtub before choosing CAPA was my fear of never getting a role in the musical since I wasn't in the department.
This fear was squashed once I got cast my freshman year as a boy in Fagin's gang in our production of Oliver!. I milked every moment of stage time and was noticed by the choreographer and director who went on to cast me in larger roles every year. These roles were always comedic goof balls that were easy to love. After much contention of what the show would be senior year, it was announced as AIDA. The musical is a pop-rock drama romance based on the Puccini opera. I was deflated by the daunting task of having to fill the shadow of a macho dreamboat ravaged by forbidden love.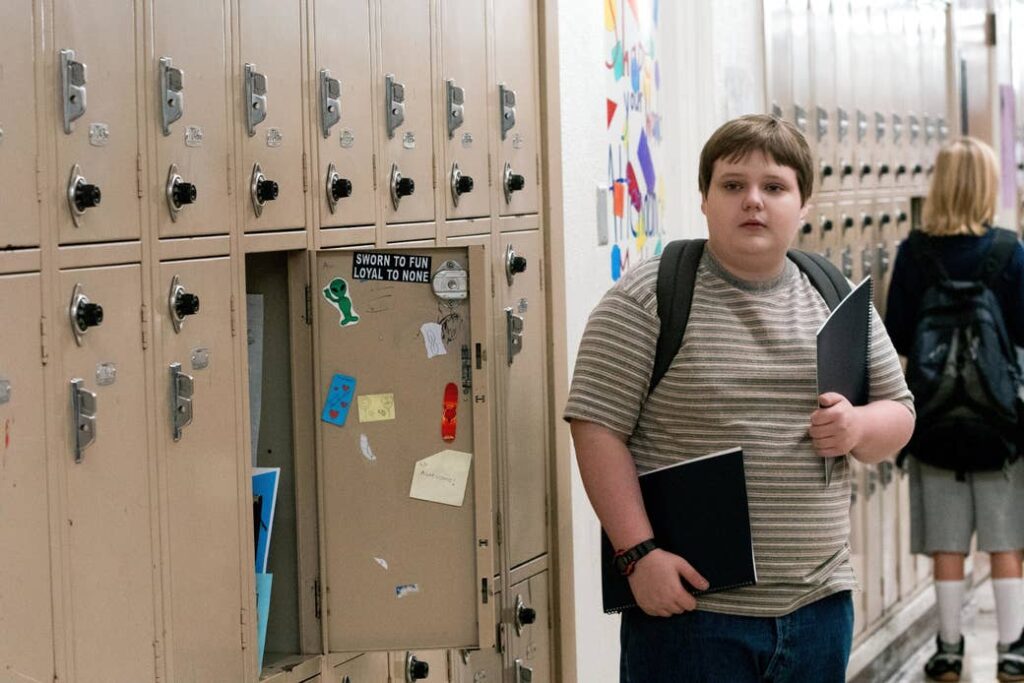 Gabe is immediately hesitant as he listens to the director describe how real and honest he wants the first kiss to read. In the previous episode, "Sleepover", Gabe's queer feelings bubble to the surface as he stays the night with his best friend, Sam. The two sit in Sam's room, wrapped in blankets, as they share sips from a single beer and watch late night softcore on tv.
Filling the void of erotic jazz, Sam asks, "What's the farthest you've gone?" With a sigh Gabe replies, "I haven't found the lucky lady." His answer felt like it was pulled from my own memories. The amount of times I uttered those same words to friends, uncles, my father, my pediatrician, my piano teacher as I grew up is staggering. I compensated for my gayness by taking up the torch of being picky and placing girls on a pedestal in hopes that others would take it as a high sign of respect. It was actually a means to avoid confronting my lack of attraction. The scene is all subtext and as their conversation dwindles and their eyes turn back to the screen, Gabe's twinkle with thoughts of Sam. The moment is quietly thrilling, and I kept binging to see where they would take this arc.
At 17, I still had not had my first kiss. I absolutely had kissed my mirror or my hand before then as a sort of rehearsal. Like Gabe, the first read-through revealed this seventeen year-curse would be broken. My first kiss would indeed be a show kiss. Young gays often find a home in the world of theater. It allows us to become somebody else for a change and to inherit the spotlight with confidence that we maybe don't always have off stage. For Gabe and I, this home turned into a split dollhouse. Eyes peering in, no walls or privacy. How could I play straight? I knew my sexuality would be up for even more scrutiny in my performance. I was playing two roles- Radames and heterosexuality itself. I didn't want to be exposed as a fraud, especially while belting notes I barely managed to hit and running on and off stage right shirtless for most of the show.
Gabe wrestles with this same duality as he fights against his emasculation in the play. He delivers lines like "Whaddya gonna do, Debra, divorce me?!" with iconic gusto. Pen15 lets us see Gabe within the world of Maya and Anna and inside his own. This gives Gabe an interiority unlike any other secondary character. Gabe delays the kiss time and time again. He creates excuses like wanting to be boyfriend and girlfriend to make it official to wearing face masks the opening night eve because he suspects he might be sick.
 My mother created a push-up regimen for me so I would look more toned and defined on stage. She wanted me to start out with fifty push-ups each day and then increase to one hundred. If I couldn't act straight, maybe my physique could delay some doubt. I would do the push-ups on the basement carpet, huffing until I got bored of the rug burn and accepted baring my soft fleshy skin on stage.
My stage romance with Aida, played by a musical theater major a year below me, began to sizzle during my lunch periods. The director, music director, and our vocal coach would cram us into a tiny practice room to belt Elton John's music at each other's faces while we were forced to hold onto one another and never break eye contact. Sometimes my eyes would drift from her gaze and find her lips. These would be the lips I would kiss first. Would hers instantly known mine were pathetic amateurs? It is in this room, hot with our singing breath and the smell of cafeteria food, that we sealed the deal.
This moment I had always dreamed of keeping secret and private now existed purely in the public eye as our instructors critiqued our intimate spark. Her lips were fuller than mine, soft. The pressure was different from my reflection and palm. It certainly wasn't romantic, but rather pragmatic. The director wanted our desire to be palpable enough to drive the show. In order to do so, I had to bury my own.
 In the final episode of part one of season two (the second half will be released in early 2021), "Opening Night", the kiss looms over Gabe. He applies Chapstick as he looks in the mirror, minutes before curtain. The time is now. The first scene heats up. Maya passionately grabs his tie and pulls him in for the big smooch. As she dives in, Gabe puts two fingers over his lips and deflects the smooch. It leaves Maya stunned, frozen in the heat of the stage lights. The audience's laughter pushes through the darkness. Their romance fizzles away later at the cast party. He tells her that he doesn't have the butterflies. "It's not you. I was trying to be honest," he says.
We probably won't see Gabe have his first kiss on the show- at least not in the way he desires. It's the heartbreak of remembering we are in seventh grade in 2000. It took until senior year in 2011 parading the stage as an Egyptian captain swooning and seducing night after night for me to receive my own. Like so many experiences on this show, Gabe's story echoes in my memory the unfathomable pull of early longing. It's strange and comforting to feel this yearning depicted so sincerely. Pen15 is a reminder to give grace to the Gabe that still lives in me.
Pen15 is in its second season and is available for streaming on Hulu.