"When I was a boy and I would see scary things in the news, my mother would say to me, 'Look for the helpers. You will always find people who are helping.''

Fred Rogers
You're probably familiar with that famous Fred Rogers quote. It feels like things have been scary for a long time, especially for LGBTQ+ people, so helpers are needed now more than ever. But how do we make sure they know how much they are appreciated?
Lyndsey Sickler (they/them) is a born helper, serving our community for over 25 years.
Who is this Lyndsey Sickler? Well, as they put it, they identify as a nonbinary femme, trans, queer, pagan, polyamorous, fat, body-positive community advocate for the transgender, lesbian, bisexual, gay, queer, intersex, asexual, two-spirit, and HIV-positive community, in and around Pittsburgh.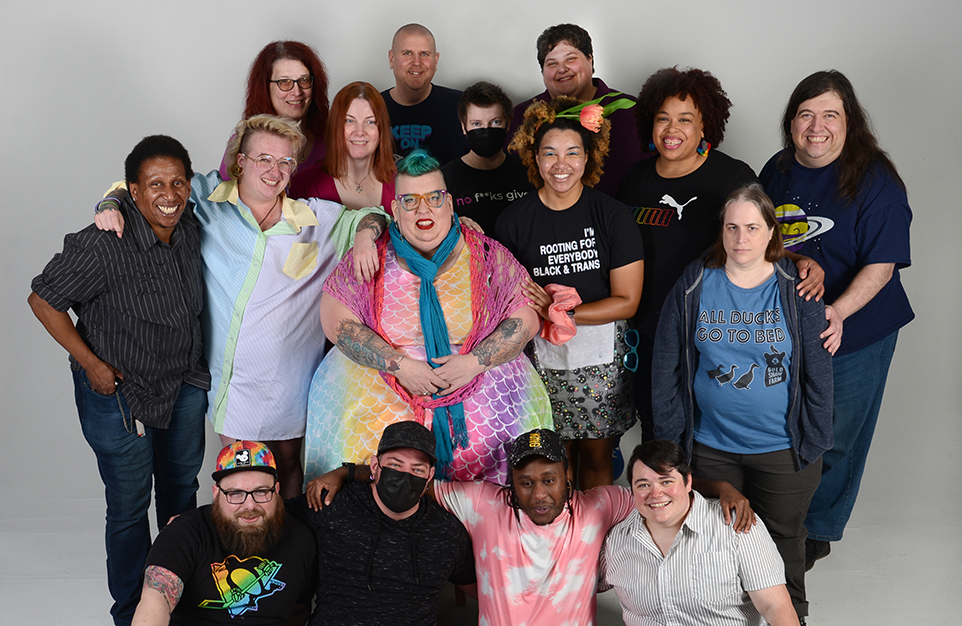 Lyndsey's journey as a helper began at the age of 9, running the household, taking care of their ailing mother, and beating ovarian cancer as a teenager. In 1991, they moved from New Jersey to Pennsylvania and attended Turkeyfoot Valley High School. "I have always been a volunteer. When I was in high school I helped with my brother's baseball team, selling raffle tickets and working the concession stand. I played basketball and softball, I was in the band, I was class president, I was in Spanish club and, for a short stint, Bible club," Lyndsey laughs. "I was involved in everything and that didn't change once I got to college."
Chatham College, to be specific, where they studied Psychology and Studio Art, while also volunteering with the University of Pittsburgh's Youth Empowerment Project. Upon graduating in 1999, Lyndsey became the project coordinator for Pitt's program, empowering young adult participants to become HIV/AIDS peer prevention specialists, while also advocating for queer adolescent health issues and organizing youth events.
"I would go down to Pegasus and do HIV testing and all of that. I became known as 'the condom lady.' I would be out on a date and someone would come up and ask me for a condom," Lyndsey says. "My friends joked that they always knew where to find me because there would be a trail of condoms behind me. But I like that people feel safe approaching me."
Eventually, Lyndsey became involved with the Gay and Lesbian Community Center of Pittsburgh (now known as the Pittsburgh Equality Center), serving on the board, then as co-chair, and finally chair of the board until 2016. They also spent 16 years in the role of Youth Programs Manager before becoming Executive Director of Proud Haven, an organization that offers safe shelter for LGBTQ+ youth ages 18-25, experiencing homelessness. "For these young folks, I'm trying to be the person that I didn't have growing up. I didn't have someone to tell me that it was ok to be weird or different and that it didn't make me bad."
You would think that is enough to fill one's day, but Lyndsey also co-founded Hot Metal Hardware, a troupe that provides safe space for gender performance, expansion, and exploration to all, and TransPride Pittsburgh, an annual multi-day celebration full of entertaining events and thought-provoking conferences. That Pride event actually began as a simple picnic for members of the trans community to get together but soon evolved to include much more.
"People just kept asking for more stuff," Lyndsey says. This led to group outings to shows, outdoor events, and a talent showcase, which included talk-backs, where people would share their experiences living as trans. These post-show discussions became an afternoon of trans-led workshops, which soon became an entire day, before eventually catching the attention of some people at UPMC.
"They wanted to collaborate to create better cultural competency and advocacy around trans care," Lyndsey says. "We've just continued to build from there to where we're at now, which is a full three-day conference, the TransPride Pgh Health & Wellness Conference." (Mark your calendars, this year's conference will be held October 6-8).
To Lyndsey, Pride events are more than a parade or concert. "There are people every year that I meet that say something like, 'This is the first time I'm meeting another gay person,'" Lyndsey says. "Pride is not just a party, it is about gathering our community together and showing each other that we exist. For young people, especially, it's really something that can change their lives, seeing our community thriving, living their lives, being human beings and not just some caricatures of themselves that they might see in the media."
Photos by Mara Rago.
You may have heard of compassion fatigue, emotional and physical exhaustion that leads to a diminished ability to empathize with others, often referred to as the "negative cost of caring." It is very common in service roles like social workers, therapists, and librarians. So how does Lyndsey avoid the dreaded empathy burnout?
"I do art. I paint watercolors, resin art. I'm also teaching myself digital drawing," Lyndsey says. Art also helps them continue to process the loss of their mother, who passed in 2013. "I'm working on self-acceptance and being aware of the kind of language I use on myself. If I say something negative internally, I'm like, 'would I say that to one of my kids? No? Then stop it!'" Creating healthy boundaries like turning off their phone for a while or leaving work at the workplace also helps with Lyndsey's self-care regimen.
"My whole life is around people who are very queer and trans-affirming, so I want that kind of experience for everybody. I don't want anyone to feel left out. That's why I do what I do even if, sometimes, it is a lot."
So, how can we be more like Lyndsey? What is their advice for getting involved and making a difference in the community? Actively looking for ways to volunteer is great but make sure you follow up. "We're all underfunded and overworked, so if you write to someone about helping out and you don't hear back, reach out again. You are not annoying," Lyndsey says. "Being consistent and persistent in your pursuit of volunteer and support activities is very helpful." If you don't have time to be involved at that level, donations are always welcome and even simply clicking that share button on social media can help charitable organizations out.
"It makes me happy to help people. It's not a burden to me because I want to help. It's what is in my heart to do."
Lyndsey, we speak on behalf of the LGBTQ+ community of Pittsburgh when we say "Thank you!"