Once upon a time, in a not-so-faraway land, an eclectic assortment of fairies, bears, and other magical folk gathered for a musical celebration… it was Pride month karaoke night at P-Town Bar. A young man stepped up to the microphone to sing a classic tune from an animated feature about a fishy gal with a hoarding disorder who just wants to hang with humans. The late Howard Ashman, gay lyricist on a number of Disney classics, would have been so proud to witness what came next: an entire gay bar singing along to "Part of Your World" so loudly that the performer on stage could no longer be heard. A song that Disney executives originally wanted to cut, from an animated movie over 30 years old and yet, it was still bringing people joy.
If you, the grown-up reader, find yourself wishing for such joy in your life, consider that wish granted because The Little Mermen, NYC's premier Disney cover band, is coming to Pittsburgh on Thursday, July 14! Playing tunes from classic animated films like The Jungle Book and Aladdin, 90's theme songs like Ducktales (woo-oo!), Disney theme park tunes, and modern favorites from Frozen and Encanto, The Little Mermen have a little nostalgic magic for everyone.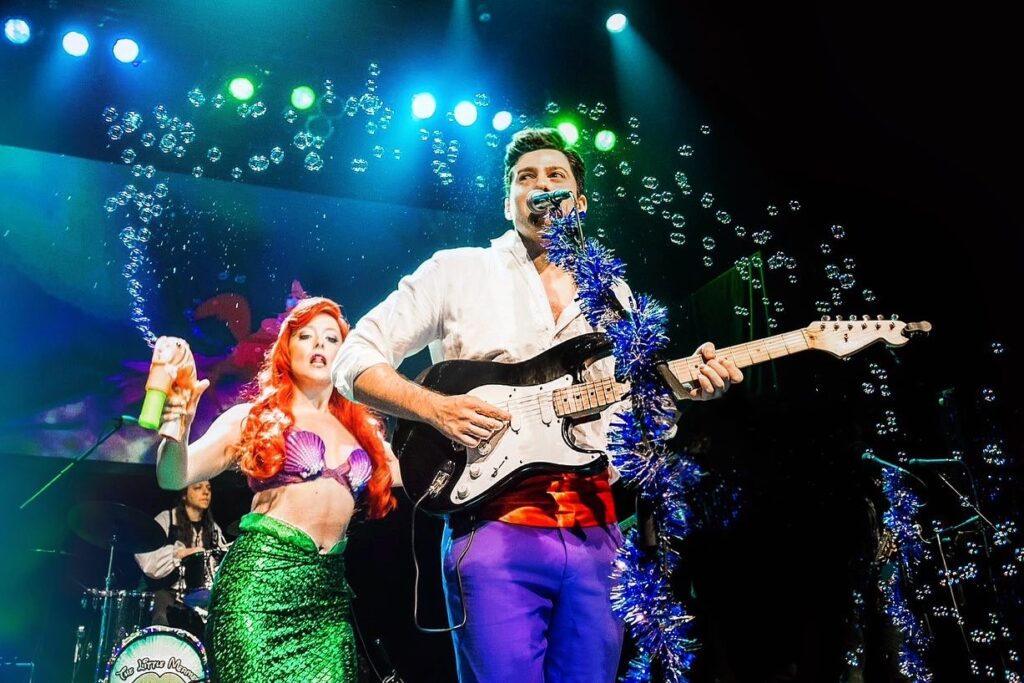 And who's the leader of this band that's made for you and me? It's Alexis Babini, a freelance musician and singer-songwriter, who had a magical idea back in 2014. While on tour with acts like Aaron Carter and Anna Nalick, Alexis would bring out his guitar to play Disney songs during the post-show meet-and-greets. These acoustic covers were such a hit that it occurred to him, what if there was a rock band dedicated to these timeless tunes? He gathered some fellow Mouse fans and soon after they were performing at a sold-out show at Webster Hall in Manhattan.
"When I first started the band, it was just me and a couple of other dudes," Alexis says, "so the name was such a fun pun. But then quickly it became, like, oh now there's princesses in the show and we have special guests, like great drag queens in New York, so maybe it's no longer the most inclusive name but 'The Little Mermaid' was taken!"
So what do the Mouse and his lawyers have to say about all this? Well, back in 2015, The Little Mermen went around Washington Square Park, singing "Kiss the Girl" to encourage random folks to smooch in public and the stunt caught the attention of Buzzfeed and the official Disney blog, OhMyDisney.
"That gave us this really fun stamp of approval," says Alexis. "We're kind of playing it by the book and being as respectful as we can with getting to play in the Disney sandbox but, yeah, I think us being on the Disney website was just a cool green light that I wasn't expecting when I first started this band." Also unexpected: having legendary Disney composer Alan Menken come to a show and even provide a cute message of encouragement for their website: "Go Mermen!"
It is difficult to discuss Disney without touching on the drama surrounding Florida's controversial "Don't Say Gay" bill. According to former keyboardist Derek Bishop, the bill sparked a lot of frustration and sadness amongst the members of the band so they put out a message of support for the LGBTQ+ community on their social media accounts, reminding everyone that at a Little Mermen show, everyone is welcome to proudly be exactly who they are.
"When I joined, I wanted the characters I dressed up as to be as queer as possible. I wanted to show kids (and adults) that it's ok to be different, that it's actually really exciting to be unique," says Derek. To that end, he created a punk rock "Crufella" Devile costume, complete with a spiky wig, dalmatian cape, leather pants, and lots of eyeliner. "The crowd loved it, I felt really proud being able to put a queer stamp on some of these iconic characters…and then we added drag queens as Ursula, it became a really queer-inclusive show."
Last year, Derek stepped back from performing to support his family when his stepfather became ill and to focus more on his businesses: Kweercards.com (a site for gay greeting cards) and Peachykings.com (gay apparel, games, Tom of Finland products). "I adore working with everyone in the band," Derek says. "They are some of the best musicians I've ever played with."
And, to Derek, one of the best parts about performing with this band is seeing dozens and dozens of people, queer, straight, young, and old, dressed as their favorite Disney characters. "A Little Mermen show is like a rock concert, a Disney tribute, and a comic-con all rolled together."
"It blows my mind that there are people that are anti-gay and Disney fans," says Andrew Grau, bassist with The Little Mermen. "There's just such a cognitive dissonance because you're talking about a place that's iconically known as the most magical place on Earth… the second most magical being drag brunch."
Andrew has strong ties to Pittsburgh, his dad is from Beaver Falls and his mother is from New Kensington. "The way my family talks, our love of [Primanti's] sandwiches, we're all really into the Pirates so it is just one of the few places that feels like home, outside of New York." And appropriately enough, his first touring show with The Little Mermen was at the Mr. Smalls Theatre in Millvale!
"I've played with a million indie artists and singer-songwriters but that vibe is so different than a [The Little Mermen] show where not only does everyone know the words," says Andrew, "but so many people are pleasantly surprised because they didn't realize they were actually going to a rock show."
And this little rock show is really taking off. In April, the band shared the stage with Flo-Rida at the SUNY Oneonta OH-Fest concert and in September they'll be performing at the Sea.Hear.Now in New Jersey with headliners Stevie Nicks and Green Day.
"You know, I think our core purpose, why we play music at all, is to express ourselves and bring people together," says Alexis. "Every time we take the stage as The Little Mermen we just want everyone to feel welcome and share this joyful music with us."
So, come on down, stop on by, hop a carpet and fly to The Little Mermen show at the Hard Rock Café Pittsburgh on Thursday, July 14. Tickets are available here.