Updated July 7 at 6:02 PM
As a true child of the nineties, I spent most of my adolescence in a mall. Therefore, shopping is a religious experience for me. There is just something about walking into a store, knowing that when I leave, it's likely that I will be leaving with something new that I love. I do a good bit of online shopping as well but it's just not the same. Instant gratification: you just can't beat it. I'm older now and my preferences have changed though. If I can go to a small business with a more focused inventory and personalized service, I am definitely going to choose that over the impersonal and stale feeling of a mall. And if that business is queer-owned, even better! Luckily for me and the other men in Pittsburgh, we have TRIM, a men's clothing store located in Lawrenceville specializing in underwear, swimwear, socks, athletic wear, and more!
TRIM Pittsburgh was first opened in 2014 in the East Liberty neighborhood of Pittsburgh. Citing a love for "main streets and small business", owner Thomas West decided to step away from his career as a TV news producer and try something new. "I had always wanted to be an entrepreneur and open a shop that was a little unique. I started off small, and listened to my customers on what they wanted to see, then took that info and expanded." That is the kind of personalized service that I like to see. And I'm not the only one who appreciates this approach to business because this strategy worked wonders!
"After almost a decade in a great space in East Liberty," West says, "I outgrew it." After casually searching on a real estate website, West found a two-floor space in Lawrenceville that started off as a house and had been recently renovated into an office/retail building. "Everything just fell into place and I took it as a sign. I mean, why question it when the universe opens a new door?" After 14 months of preparation, TRIM Pittsburgh's new location recently opened at 3508 Butler Street.
I am not exaggerating when I say that TRIM Pittsburgh's new location is gorgeous. Upon entering, you are greeted with bright lighting, a bright smile, and an array of casual clothing options, including quite an impressive collection of socks. If you're looking for some more 'fun' options, head up to the second floor! Upstairs, you can find swimwear and athletic wear by brands such as C-IN2, ST33LE and Vuori. I also spent a good amount of time browsing through the many tank and crop tops for sale! If you like underwear, TRIM is definitely the store for you. All of your favorite brands are here: Andrew Christian, Diesel, Good Luck Undies, Nasty Pig, and more! There's briefs, trunks, thongs, and jock straps! With that kind of inventory, it doesn't matter if you're going biking, jogging, to an amusement park, to the beach, or to a circuit party; TRIM Pittsburgh has something for you.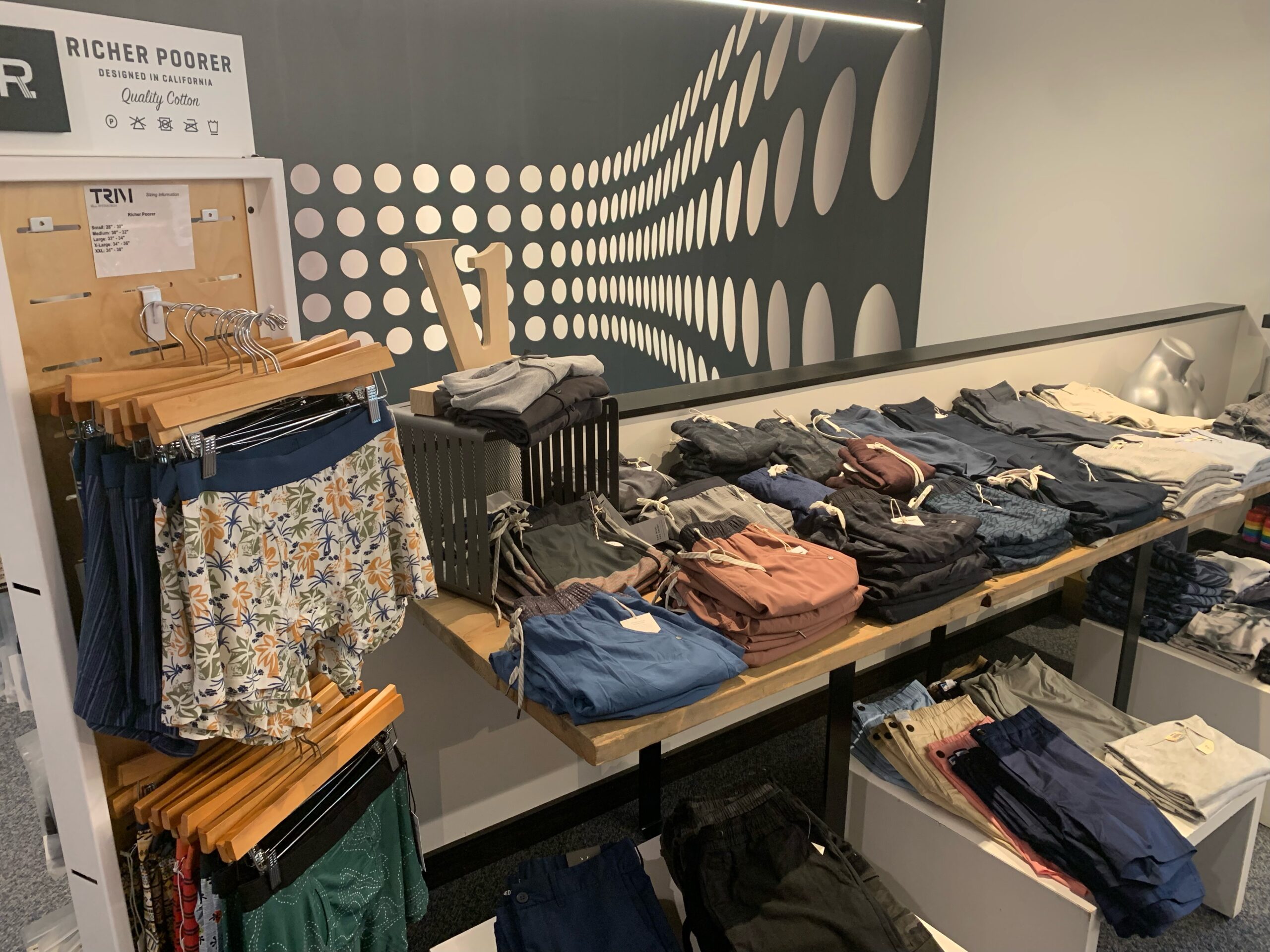 As if all of that wasn't enough, West doesn't see TRIM as just a source of income for himself. He has also used the store as a way to improve our fair city as well as Pittsburgh's queer community. TRIM was the first sponsor for Pittsburgh's chapter of Stonewall Sports. West is happy to contribute as he has personally benefited from the league's efforts. "I played for several seasons and got to know a lot of people," West says. "It's a great organization that offers up an easy atmosphere for newcomers to Pittsburgh as well as old friends." West and TRIM have also worked with The Pittsburgh Passion, Allies for Health + Wellbeing, and others. With this new expansion, West says that he is now "dedicated to making the new location a destination for Pittsburghers and for those visiting our city."
West shared a poignant final thought with me: "If I had one wish, it would be that people would rediscover shopping in city neighborhoods, and not always online. Online has its place, but without businesses along main corridors, life and city living would be very boring."
Trust me, a queer small business owner with that mindset who listens to his patrons is who you want to give your money to. I know I'll be back and I hope to see you there!
TRIM Pittsburgh
3508 Butler Street
Pittsburgh PA 15201
http://trimpittsburgh.com
(412) 512-9251